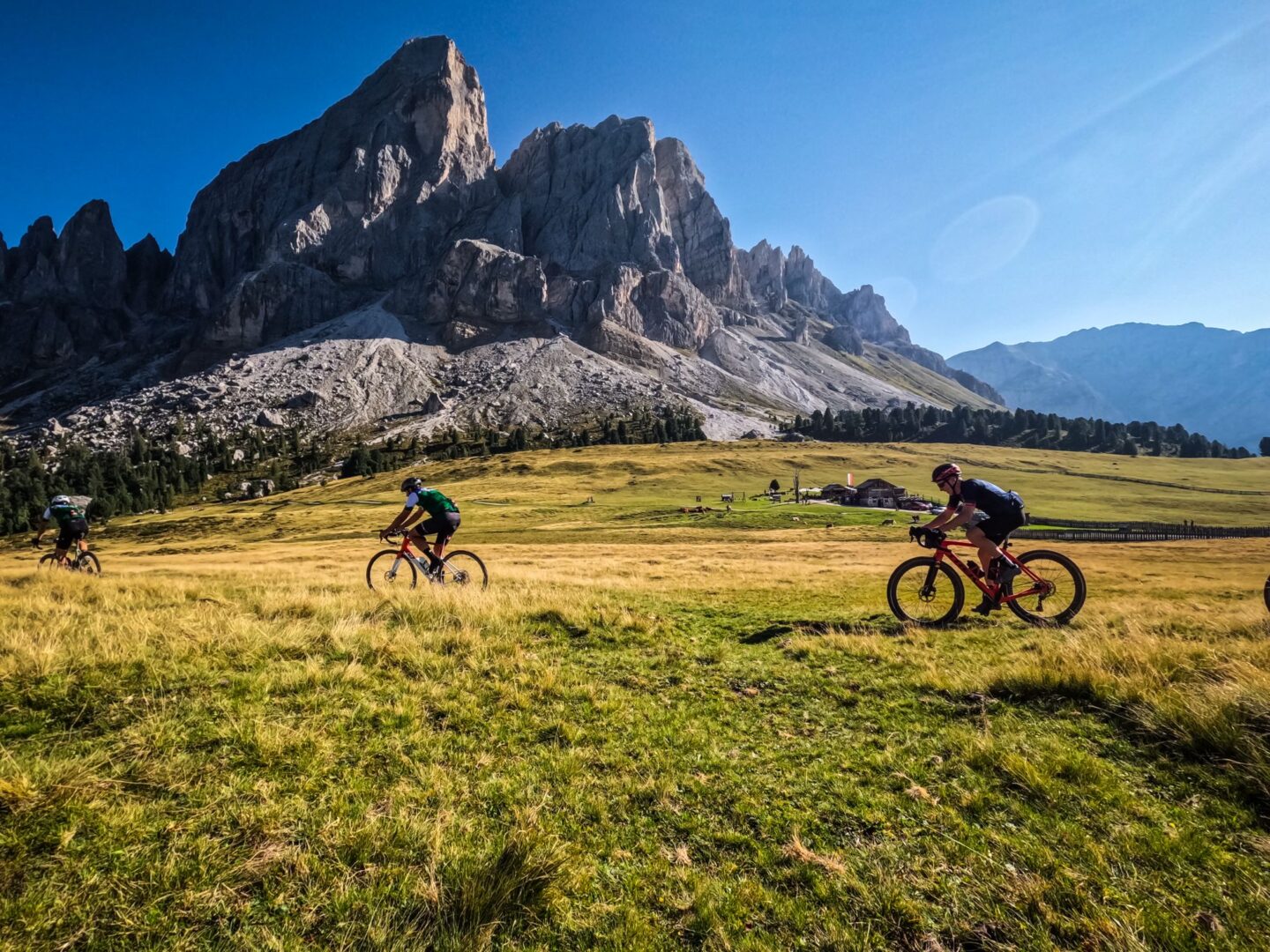 Secret Dolomites CYCLING Tour
Experience the sheer grandeur of the Dolomites on some of Italy's finest roads.
The stunning climbs and secret backroads of the Dolomites might very well be the greatest place on earth to ride bikes. We certainly think so.
Our founder, Chris Case, has been traveling to the Dolomites for more than 20 years, befriending legendary locals who have shown him all the best terrain, from the iconic paved climbs made famous in the Giro d'Italia to the secret network of gravel tracks and meadow trails that lead you to solitude on sinuous switchbacks.
From our home base in Alta Badia, you'll quickly discover why the staggering natural beauty of the Dolomites is unsurpassed as a cycling destination. (It's not bad for trail running and hiking either!)
Welcome to cycling paradise.
Highlights of OUR Dolomites Tour
Here is a sampling of what we will explore:
What's Included, Pricing, & Dates
Pricing
Prices start at $4,000 per person for an eight-day tour.
Because Alter's tours are always customized, final pricing takes a conversation. Once you've submitted an application, Alter will be in touch to discuss ideas and options that fit you (and/or your group), before preparing a formal proposal with final pricing and itinerary.
2024 Dates*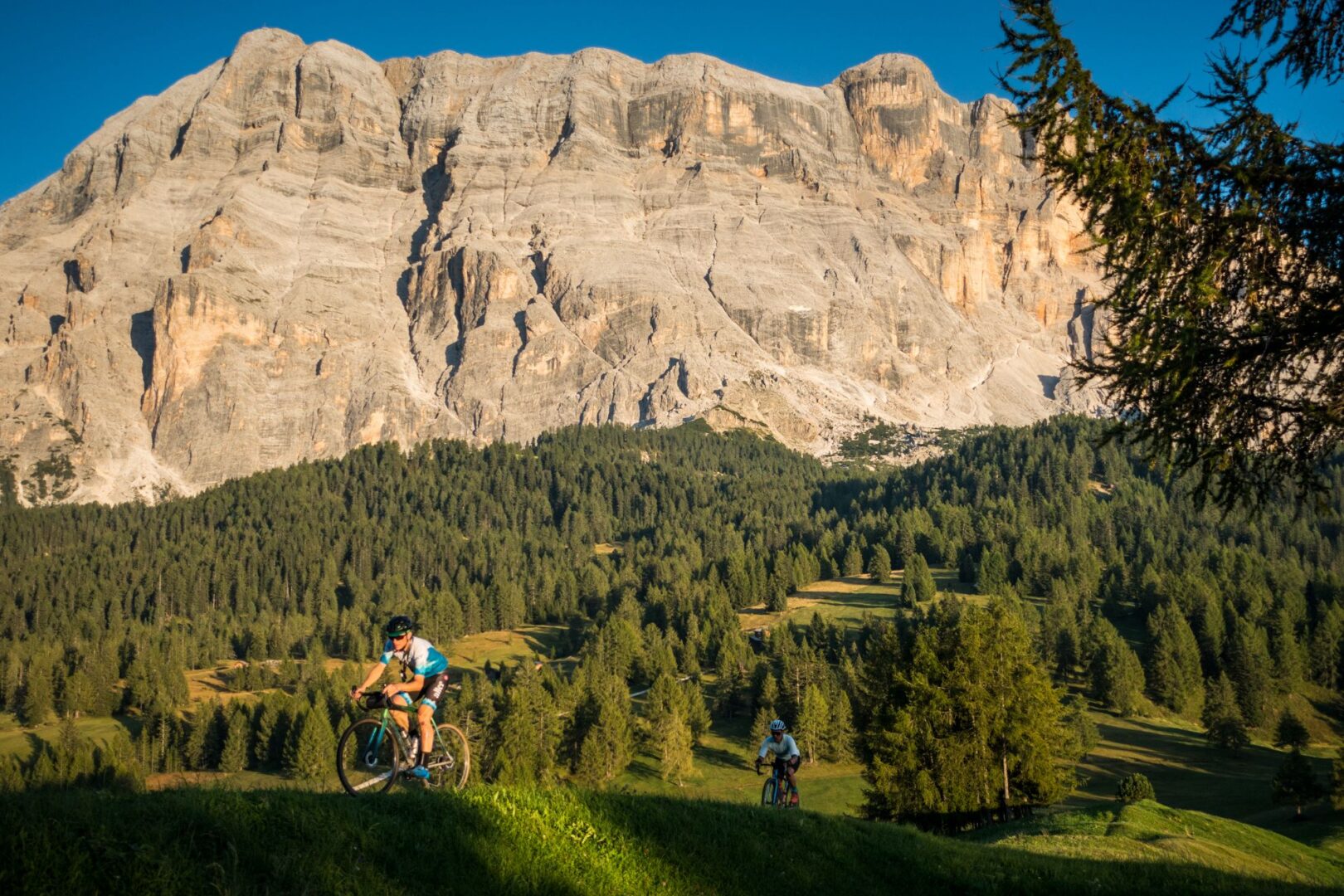 THE STORY OF YOLOmites5000
You only live once! Make the most of it, on the world's greatest ride—held each September in the heart of Alta Badia.
Legend has it that two friends—Igor Tavella, a Ladin from Badia (there are about 30,000 people in the Dolomites who identify as Ladin first, rather than Italian or Austrian) and Jered Gruber, the American cycling photographer—were riding bikes on the various steep backroads, farm tracks, and trails in and around Alta Badia.
Jered asked Igor: "What's the shortest route you could create to get to 5,000 meters of climbing?" And Igor got to work creating what would become #YOLOmites5000 (You Only Live Once!)
It is about 80 miles. It never strays more than about 20km from where you start, and it never repeats the same road in the same direction. There is an infamous "mushroom patch" that you have to get through at some point, but the views all day are staggering.
It's even choreographed to the rising and setting sun, so you reach the meadow at just the right time to see the sun's rays light up the dew on the blades of grass.
It is hard, it is a bit absurd, it is stunningly beautiful. It isn't a race, it isn't a gran fondo. It is about 40% paved, 40% dirt/gravel, and 20% meadows/mushroom patch/pasture. It's awesome in every way—and maybe a smidgen absurd, as the following story reveals.
---
The majestic Dolomites buzz with a rosy glow as the sun bounces from their sheer walls. We ride toward the lower flanks of Sass de Putia, a bifurcated spire of towering rock near Passo delle Erbe. We are approaching "The Mushroom Path," says my friend Igor Tavella with a mischievous grin and slightly broken English.
We continue down an anonymous gravel road, tall grasses sprouting between parallel hewn grooves. It gradually contracts, and the greenery becomes plusher. Finally, all evidence of any road vanishes. Our route is not so much a path as it is a circumstance.
We arrive in a field of knobby green mounds, dotted with larch trees drooping like scarecrows, golden light piercing this dank bog. We attempt to pilot our bikes over the spongy ground. We fail; we take to foot. Someone's white Sidi shoes turn the color of manure as we tiptoe between patches of enormous mushrooms.
After 10 minutes of squishing, we earn our reward: A dramatic break in the trees reveals a ripped tower of rock, surrounded by flowing pastoral grasses. We regroup at a rustic mountain hut for delicately moist strudel and crisp cappuccino. The view is staggering, our smiles broad. Our feet are really wet. This is the Dolomites.
Start daydreaming
A transcendent cycling experience awaits you on the hidden roads of Alta Badia.
Let the Transformation begin
Ready to apply? Go left. Have more questions? Head right.